Wrath of the Villains: 20 Enigmatic Riddler Shirts
List
Published by Tom Misuraca in List Disclosure: this post contains affiliate links
0
The Riddler has always been one of my personal favorite Batman villains. Not that I'm a big fan of puzzle and riddles, but more because I think he's one of the coolest dressed bad guys in Batman's gallery of foes. Known mostly for his green suit with black question marks, often highlighted with purple. Accessories have included ties, bowlers and questions mark shaped canes. And in the graphic novel, Kingdom Come, he had very subtle question mark eye glass frames.
Many of us first got to know The Riddler in reruns of the 1966 Batman television show. Frank Gorshin's portrayal of The Prince of Puzzlers was so amazing, it made a forgotten villain one of the most popular. Unlike most of the Batman '66 special guest villains, The Riddler had two outfits. His slightly too revealing leotard, and his stylish question mark three-piece suit. Man, I loved that suit.
The Riddler of Batman The Animated Series was dressed a little more subdued. Guess it would be challenging to have such a busy suit on an animated character. Jim Carey's Riddler in Batman Forever had some new takes on the costume. His light-up jacket was most memorable, but he didn't carry it off as well as Frank.
In Gotham, Edward Nygma has not embraced his alter-ego's look. But now that we're watching Cory Michael Smith's slow, by terrifying transformation, I'm sure it's only a matter of time before he begins to question his style of dress.
Frank Gorshin's Riddler suit may be a little too "loud" for some, but here are a bunch of cool Riddler shirts that will help make you enigmatic.
Question marks… so many question marks…
The Riddler – Batman '66
Riddler
Minimalist The Riddler
The Riddler
Mystery Point
The Riddler Tee
The Riddle Man
Fascinating
Ed
The Riddler
Riddle Me This
Too Many Bats?
Arkham Nygma
Riddle Me This Question Mark
The Riddler Day of the Dead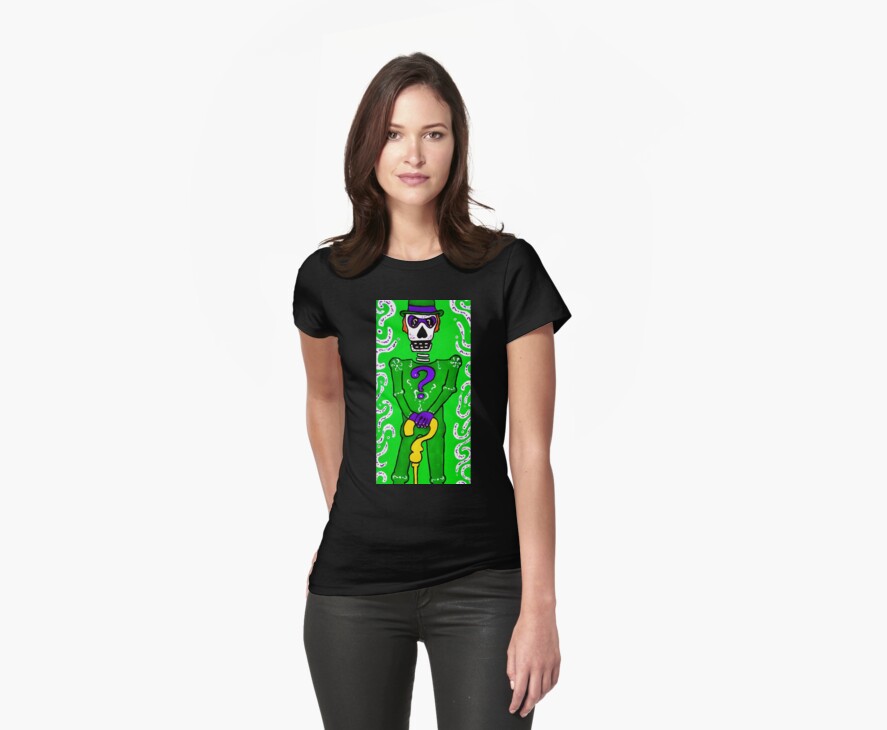 The Riddle Puzzle Distortion
Super Riddle Bros
The Riddler – LEGO
Riddler (Mage/Rouge)
Riddler 32 Bit
Batman is about to be back on the big screen, this time, taking on Superman. Who will win? Vote! Bruce Wayne or Clark Kent? Win Your T-Shirt!
(Visited 654 times, 1 visits today)